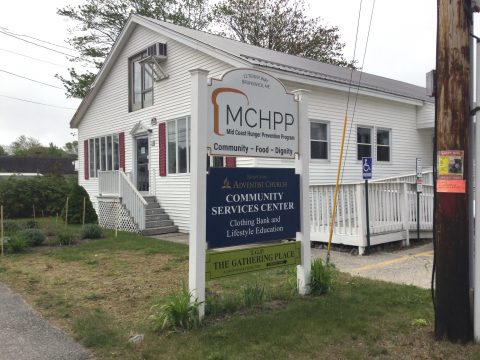 Adventist Community Services Center
Clothing Bank
1 Tenney Way, Brunswick, Maine
Phone: 207 725-7015
Email: thefreestorebrunswick@gmail.com
Guests are asked to follow proper safety protocols. Donors: Please, only bags in the bin, nothing loose. Loose items may be brought inside when we are open.
Open Regular Hours
Monday
4 PM to 5:45 PM
Wednesday
9:30 AM to 11:45 AM
1:00 PM to 2:45 PM
(Closed on all Federal holidays)
OUR MISSION
Our mission is to honor Christ by serving with dignity persons in need of clothing and household items  and, from time to time,  by teaching basic living skills to those who desire to learn.
COSTS
All items are free, but we do have an entrance policy of a dollar when possible. If anyone comes without a dollar, a simple "thank you" is fine. Some nicer items are made available for a small donation. 
DONATIONS OF ITEMS
Our donors are the backbone of our operation. Thanks to their generosity, we have good quality clothes and other items to give away.
Please place all donations in the bin, or bring them on the days we are open. Items left outside are subject to loss and/or damage. and may cost us money to dispose of.
Items we accept:
Clothing - new,  and gently used -- always clean
Shoes - only new or gently used -- always clean
Household items - usable and clean
Kitchen appliances - clean and in good working condition
Children's toys and baby equipment (large items must be brought on days we are open)
Items we are unable to take:
Furniture
Electronics, TVs, computers, etc
Items that are broken, dirty, unworkable,  etc
Jewelry
Women's swimwear
Books, CDs, DVDs etc (We do accept children's books that are in line with our misson.
Items we are currently in need of:
Travel size toiletries
Men's jeans and pants--smaller sizes
Men's 2x and larger shirts
LOCATION
We are located on Union Street, directly behind Brunswick Hannafords--on the same campus as Mid Coast Hunger Prevention Program and The Gathering Place.
---